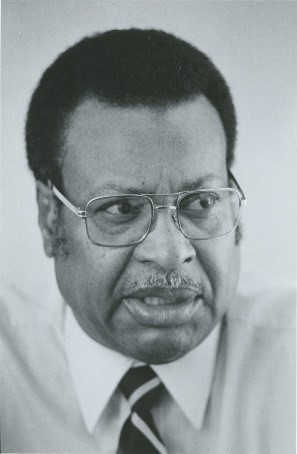 Lewis 'Les' Ritcherson: 1926-2019
Life for blacks in racially segregated Central Texas schools often conjures up everything wrong about the Jim Crow era, yet those times were not without periods of exhilaration and confidence. And one of the most exciting years at Waco's all-black A.J. Moore High School was 1964 when football took center stage. Each football game that season seemed more thrilling than the last. For days after a win, everyone on campus and in the African-American community assumed an air of undeniable pride: We were the Mighty Lions of Moore High School and soon Houston Jack Yates would hear our roar!
These words were written by me for our 2015 A.J. Moore High All-School Reunion Souvenir Book — and during the reunion no one refuted them. That's because as some of us enjoyed the reunion, our legendary coach, Lewis "Les" Ritcherson, and many of his former football players were participating in his induction into the Texas High School Coaches Hall of Fame. And that 1964 state football championship win was par for the course for Ritcherson. He had a knack for winning football games from the moment he took over at A.J. Moore High School in 1950.
"We had some good players there," Ritcherson recalled in a 2012 oral history, recalling his years turning the Moore High football program around. "They just needed motivating and steering in the right direction. And, of course, I was about as young as some of the players. [He was 24 when he began coaching at A.J. Moore, where he once played football.] They often teased me about that. And my players, to this day, they love me to death — we have a Moore High reunion every year — and they can't wait for me to come."
Those days of the segregated Texas high school football league required some resourcefulness. Consider the memorable anecdote in Michael Hurd's wonderful book, "Thursday Night Lights: The Story of Black High School Football in Texas," which chronicles segregated high schools in the Prairie View Interscholastic League, African-American counterpart of the University Interscholastic League, which excluded black schools till 1967. Hurd explains how, in 1947, Ritcherson landed a job in dusty West Texas coaching undermanned Midland Carver — so undermanned that Ritcherson briefly suited up and played quarterback under an assumed name. Hurd notes that Ritcherson was unapologetic decades later: "I had always wanted to play quarterback. I didn't have insurance and we had a youngster on the way, so that ended my brief 'pro' career."
On Oct. 24, Coach Ritcherson, 93, died quietly at the home that he and wife Velma made in Madison, Wisconsin, far from the scene of his high school coaching glory. [Services were held last weekend at New Hope Baptist Church in Waco.] Though he left Moore in 1966 to assume the post of an assistant coach at the University of Wisconsin–Madison — gaining note as its first African-American coach — he, his wife and their two sons, Lewis Jr. and Roderic, remain an important part of the A.J. Moore High legacy.
Talent ran in the family. Lewis Jr. was quarterback of the Moore team and highly sought by college recruiters. The University of Wisconsin happened to be one of the schools seeking to sign him, but Coach Ritcherson received a look from UW even before his son after recruiters studying Texas football came across his statistics by chance. In a University of Wisconsin oral history, Ritcherson recalled recruiters considering him on the strength of several football championships while losing less than 40 games throughout his 16-year career at A.J. Moore High School.
Ritcherson left Moore and his native Waco (actually, Hillsboro, where his mother happened to be picking cotton back in 1926). His departure in spring 1966 came as integration at last began to transform local schools, thus ending the careers of some coaching staff at campuses long segregated. It was Lewis' mother, ironically, who encouraged him to consider Wisconsin. After six years as an assistant coach, he served at UW as a longtime affirmative action officer. For many years he chaired the Madison School District's Human Relations Advisory Council and supported the NAACP and Madison Urban League.
Staying Fit
Ritcherson's death last month has had a tremendous impact on A.J. Moore alumni, especially former players. I spoke with many of the players, alumni, church family and friends after learning of his death. Almost everyone offered stories — not just of his winning ways in the stadium but also off the field. I was pleasantly surprised at how long former Waco High football coach Johnny Tusa had known Coach Ritcherson, his family and Moore High football players: Although Tusa is white, he used to watch Ritcherson and his team practice as a boy and said that he and Lewis Jr. are the same age. (Tusa, now Waco Independent School District athletic director, is organizing a tribute to Coach Ritcherson where former players and alumni can share stories about him.)
Former Waco City Councilman Noah Jackson, who played on Ritcherson's first winning teams in 1951 and 1952, speaks of the immense pride former players have about those years. (And Noah has quite a collection of A.J. Moore High memorabilia in safekeeping. He and other alumni have been diligently seeking a permanent home for it.) Dan Carter, who played on the team from 1957-1959, recalled Coach's teaching his athletes to work hard to develop their physical skills. Such athletic conditioning was key to victory: "Coach would tell us that other teams might be bigger and hit harder but they won't be more fit." And Alicia Todd Grinage says her parents, Emmitt and Frances Todd, were close with Les and Velma Ritcherson. They would gather with friends and family from New Hope Baptist Church and play cards and socialize: "They were both well-respected and considered to have high standards."
In short, Coach Ritcherson was something greater than an athletic icon in Jim Crow Texas who won two "Negro State Championships" (1960, 1964), complete with a career record of 132 wins, 38 losses and three ties. He was a family man first. He remained firm about his players getting an education, insisting they show up bright and early for class even after Wednesday and Thursday night games. (He himself taught civics, history and health.) And he maintained ties with players after they left school. Clifton Weakley tells how the summer he graduated high school not knowing where he might go next, Ritcherson invited him to go with him to Prairie View A&M for two weeks. Coach was working on his master's degree and Clifton said he loved being on the campus: "I'll always be grateful for Coach inviting me to go there with him because it was such a great experience and helped me make the decision to go to college."
The A.J. Moore Alumni Association throughout the years has remained in close contact with Coach Ritcherson. Many of us will tell you that Coach was family. He continued to be the Great Encourager even when he couldn't make it to reunions. He would send letters and cards acknowledging or encouraging one activity or another. He supported alumni activities through contributions. He remains a symbol of vigor and stamina, the sort useful in days when societal odds sometimes seemed arrayed against us. He reminded us that life goes on and even yields up victories from time to time.
Ben Danforth, A.J. Moore football player from 1961-1963, perhaps said it best: "We went all out for football and, because Coach brought out the best of every player on the team, it brought out the best of us as a high school family. Coach Ritcherson was the Bear Bryant of high school coaches!"