Military Acknowledgements
Military memories will forever be a part of our lives. Here is a forum for us to share some special acknowledgements with the rest of the A.J. Moore High School Alumni Family.
Alumni Members can share some information but limited to not more than 125 words. These are some of the points to consider: Their family names, length of life, graduation date or year attended, high school activities, length of military service and locations, professional interests, or what you liked about your friend. Thank You.
Add an acknowledgement. Add your own message and picture.  CLICK HERE
United States Public Health Service
Shawneequa Mitchell Harris, DDS, MPH
Dr. Shawneequa M. Harris, CAPT (O-6), Retired. 30 years active duty. Last assignment: Associate Regional Administrator, CMS. Responsible for the leadership and management of the Division of Quality Improvement, overseeing 16 contractors in improving quality of health care to over 11 million Medicare beneficiaries in TX, OK, LA, AR, MS, AL, TN, GA, NC, SC, & FL ($208 million budget). Served as CMS rep on the ADA/Payer Code Revision & Dental Content Committees; various leadership positions on numerous deployments, including 2 Hurricane Katrina assignments in MS and LA; Dental care for Kosovo Refugees in NJ, Indian Reservations in OK & SD, and FCIs in TX; adjunct clinical professor at Baylor College of Dentistry. USPHS Outstanding Service Medal, the Jack D. Robertson Award (1st African American and 2nd female), and Café Mocha's Toyota American Pride Award (1st female veteran in Texas). A Certificate of Dentistry in Dental Public Health, a Master of Public Health degree, a Doctor of Dental Surgery degree, and a Bachelor of Science degree from Baylor University, Waco, TX. Distinguished Toastmaster, and an active member in both Oak Cliff Bible Fellowship and Alpha Kappa Alpha Sorority, Inc. Proud mother of Mr. James Harris, MA, a College Communications Professor and motivational speaker, and LCDR Alesha Harris, a Ph.D. Science Officer in the USPHS.
United States Air Force
Douglas Woods, Jr.
Captain Douglas Woods, Jr. graduated from A. J. Moore High School in 1960 and enlisted into the U.S. Air Force as a Communications Specialist with the Air Force Special Security Office. Captain Woods was selected to the All-Conference Pacific Air Force Football Team in 1966 and the United Air Forces in Europe Football Team in 1968. In 1974 Captain Woods attended the University of Maryland to complete his undergraduate studies for the Airman Education and Commissioning Program. After graduation in 1976, he was commissioned to a Second Lieutenant. Capt. Woods assignments included positions at Headquarters Pentagon Washington D.C., Headquarters Air Forces in Europe, Strategic Air Command Nebraska, and the 5th Air Force in Japan.
Capt. Woods professional education includes a Bachelor of Arts degree in Business Management from the University of Maryland. He earned his master's degree in public administration from Golden Gate University and his MBA degree from Webster College. Additional personal development includes Squadron Officer School and the Air Command and Staff College. Capt. Woods retired from military service after 28 years of active duty.
After Capt. Woods military career, he worked as a Budget Analyst with the Arkansas Department of Health and H&R Block Inc. as a Certified Tax Professional.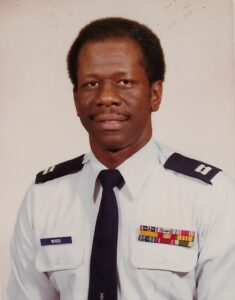 United States Army
Norman Manning
SSG Norman J. Manning. Service dates January 1970 to December 1978. Trained and worked for the Army Security Agency. Specialty field was communication interception operator. That required a military and NSA clearance. I was station in Ft. Devens MA, Germany, Thailand, Ft. Hood Texas and Menwith Hill, England. In England I was a NSA civilian and in a joint services position. I remember recording all communications as we evacuated Saigon Vietnam in April 1975.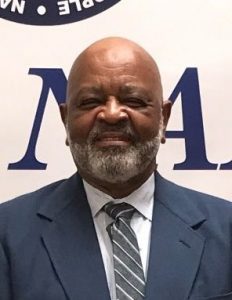 United States Army
Israel P. Anderson
Israel P. Anderson, Lieutenant Colonel, U S Army Retired. Years of service 1968 - 1993. Served as a combat arms officer in Infantry, Cavalry and Armor units. Served at every level of the army from platoon to Department of Army. Served as platoon leader, executive officer, commander, operations, personnel, and war plans officer. Assignment locations included Fort Knox, Ky, Germany, Fort Hood, TX, Yakima, WA, Pentagon, Washington DC, Fort Leavenworth, KS, Bergstrom Air Force Base, Austin, TX, South Korea, and Central and South America.
United States Air Force
Richard R. Browning
Colonel Richard R. Browning: A.J. Moore High School Class of 1961. Bio-Chemistry graduate from Tennessee State University, Nashville, TN while enlisted in the U.S. Air Force. Commissioned 2nd Lieutenant in 1965. Retired Colonel 1994. Worked private industry as an aerospace engineer. Master's Degree in 1999 from University of Maryland and an online doctorate degree. Volunteer at Joint Base Andrews supporting retiree activities and assisting veterans. Served tours of duty at various locations in the US, Asia, Europe, Vietnam, and Thailand.

A.J. Moore High School National Alumni Association is a non-profit organization that was founded in 1973 in Waco, Texas, and has been strongly supporting deserving students and their descendants for the past 45 years.